South Carolina Birth Outcomes Initiative
2016 South Carolina Birth Outcomes Initiative Symposium
Why should YOU go to the SCBOI Symposium?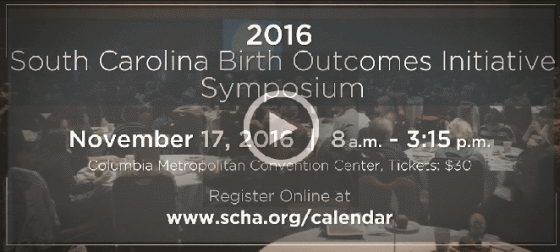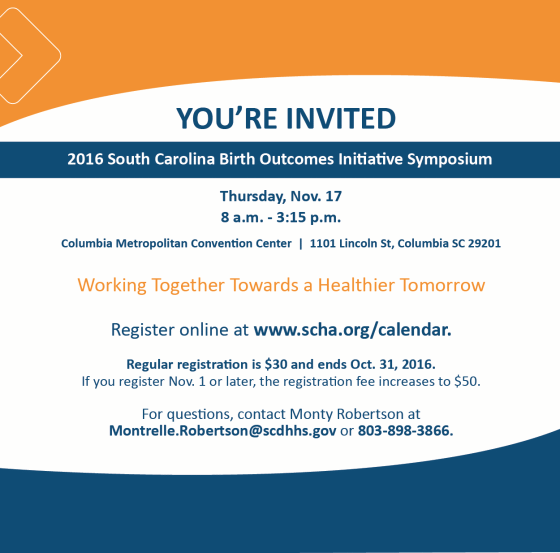 Registration Information
South Carolina Hospital Association (SCHA) is coordinating registration for the symposium. This year registration is only available online. Online registration will allow you to register multiple people from your organization at one time. 
To register for the symposium, visit the SCHA web calendar online,
www.scha.org/calendar
, select the 2016 South Carolina Birth Outcomes Initiative Symposium and click "Online Registration" to complete the form. A confirmation will be emailed to you after registration is complete. 
Presentations
Webinars
Treatment Options for Opioid Substance Use in Pregnant and Postpartum Women
Evidence-based Interventions to Prevent Spontaneous Preterm Birth
Hospital Breastfeeding Numbers to Meet Accreditation Requirements: How to Achieve and Measure.
CenteringPregnancy: A successful model for group prenatal care
Long Acting Reversible Contraceptives (LARCs) Webinar
Postpartum Contraceptive Access in South Carolina
Supporting Vaginal Birth Webinar #1
Should we worry about C-section rates in SC?
Supporting Vaginal Birth Webinar #2 
An ounce of prevention is worth a pound of cure: Antepartum strategies to prevent primary cesarean delivery
Supporting Vaginal Birth Webinar #3
The role of the labor and delivery patient care team in the safe prevention of the primary cesarean delivery.
2016 SCBOI MEETING DATES
Jan. 13
Feb. 10
Mar. 9
Apr. 13
May 11
June 8
July 13
Aug. 10
Sept. 14
Oct. 12
*Nov. 17 (SCBOI Symposium)
Dec. 14
All monthly meetings are held at the South Carolina Hospital Association (SCHA) from 10:30 a.m.-12:30 p.m. on the dates indicated above.
SCHA
1000 Center Point Road.
Columbia, SC 29210
*In lieu of a monthly meeting in November, SCBOI will host the fifth annual symposium on Nov. 17 at the Columbia Metropolitan Convention Center.
SCBOI Core Objectives
South Carolina Birth Outcomes Initiative (BOI) is an effort by the South Carolina Department of Health and Human Services (SCDHHS), South Carolina Hospital Association, March of Dimes, Blue Cross Blue Shield of South Carolina and over 100 stakeholders to improve the health outcomes for newborns not only in the Medicaid program but throughout the state's population. Launched in July 2011, SCBOI has these core objectives:
Elimination of elective inductions for non-medically indicated deliveries prior to 39 weeks gestation
Reducing the number of admissions and the average length of stay in neonatal intensive care units
Reducing health disparities
Making 17P, a compound that helps prevent pre-term births, available to all at-risk pregnant women with no "hassle factor"
Implementing a universal screening and referral tool (SBIRT) in the physician's office to screen pregnant women and 12 months post-delivery for tobacco use, substance abuse, alcohol, depression and domestic violence
Promoting Baby Friendly Certified Hospitals and Breast Feeding
Additional areas of focus since inception include:
Promote healthier moms and babies by supporting the Centering Pregnancy Model
Allowing inpatient insertion of Long Acting Reversible Contraceptive (LARCs)
Supporting Innovative Program Development for the Management of Neonatal Abstinence Syndrome (NAS) in the Level 1 Nursery
Workgroups and Chairpersons:
Quality and Safety - Dr. Rick Foster, South Carolina Hospital Association
Data - Dr. Ana Lopez-Defede, Institute for Families in Society and Dr. Aunyika Noonan, South Carolina Hospital Association
Behavioral Health - Dr. Jennifer Hudson, Greenville Hospital System
Care Coordination - Dr. Philip Mubarak, South Carolina Department of Health and Human Services
Health Disparities - Dr. Amy Picklesimer, Greenville Hospital System
Baby-Friendly - Dr. Sarah Taylor, SC Breastfeeding Coalition, Medical University of South Carolina
Vision Team
Dr. Delores Baker, Molina Healthcare
Dr. Judy Burgis, University of South Carolina School of Medicine
Lisa Davis, South Carolina Department of Health and Environmental Control
Dr. Ana Lopez Defede, Institute for Families in Society
Dr. Rick Foster, South Carolina Hospital Association
Dr. Tom Gailey, Greenville Hospital System
Dr. Christine Gerber, Carolina OB/GYN
Ms. Melanie "Bz" Giese, South Carolina Department of Health and Human Services
Dr. Jenny Hudson, Greenville Hospital System
Breana Lipscomb, March of Dimes
Dr. Amy Picklesimer, Greenville Hospital System
Dr. Charles Rittenberg, Medical University of South Carolina
Dr. Shawn Stinson, Blue Cross Blue Shield of South Carolina
Dr. Sarah Taylor, Medical University of South Carolina
Dr. Fred Volkman, South Carolina Department of Health and Human Services
Support And Questions
BZ Giese, Director of South Carolina Birth Outcomes Initiative
SCDHHS
giesem@scdhhs.gov
Monty Robertson, Senior Consultant, South Carolina Birth Outcomes Initiative
SCDHHS
Montrelle.Robertson@scdhhs.gov
Lisa Hobbs, Perinatal Consultant
DHEC
hobbslb@dhec.sc.gov