Screening, Brief Intervention and Referral to Treatment (SBIRT)
What is SBIRT? 
SBIRT is evidence based, integrated and comprehensive approach to the identification, intervention treatment/referral of substance (drug and alcohol) use, domestic violence, depression, and tobacco use. The program is specific to pregnant women to include 12 months postpartum. SBIRT is important in increasing the health outcomes of the mother and infant. 
What are the core clinical components of SBIRT?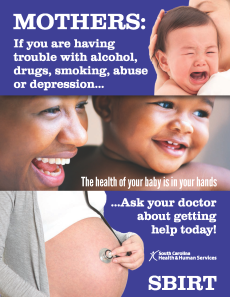 Screening – very brief to identify substance use, behavioral health issues and domestic violence
Brief Intervention – raise awareness of risks and motivates the patient toward acknowledging there is a problem
Referral – when a risk is identified referred for more intensive treatment 
Treatment – cognitive behavioral work for member to acknowledge risks
Why is SBIRT important?
Research indicates SBIRT may:
Stem progression to independence
Improve medical conditions
Prevent medical conditions related to substance use, abuse and dependence
Decrease substance abuse related mortality
Alcohol alone is a factor in up to 70% of homicides, 40-50% of fatal MVA's, 60% fatal burns and 40% fatal falls.
Who supports SBIRT?
In an effort to expand and enhance state substance use identification and treatment, the South Carolina Department of Health and Human Services has partnered with the South Carolina Department of Alcohol and Other Drug Abuse Services (DAODAS), the South Carolina Department of health and Environmental Control (DHEC) Quit Line, the South Carolina Department of Mental Health (DMH), and the seven Medicaid health plans to develop provider training to assist with the identification, intervention and referral of our pregnant Medicaid population who may benefit from further substance use treatment.
 
Below is a selection of materials for the SBIRT program, a part of SCDHHS' Birth Outcomes Initiative , which works with hospitals and other partners to improve the health of mothers and babies in the Medicaid program.
SBIRT Materials
SBIRT Provider Presentation
Universal Screening Tool
Brief Intervention - Motivational Interviewing Technique Videos
Smoking and Depression
Opioid Use
Domestic Abuse
Alcohol Use
ACOG Opinion  Opioid Abuse, Dependence, and Addiction in Pregnancy
ACOG Opinion Motivational Interviewing
SBIRT data presentation 2015
Impact Of SBIRT Screening On Clinical Outcomes
DAODAS Materials
Consent for the Release of Confidential Information
DHEC Materials
Handout 1-Quitline SBIRT Steps_Referral to Enrollment
Handout 2-SC Quitline 2As+R Online Training Flyer
DHEC Quitline Provider CME Course
SCDMH Materials
SCDMH Auth to Disclose PHI Form
Patient Health Questionnaire (PHQ-9)
SCDMH SBIRT Contact List