Strategic Plan
The South Carolina Department of Health and Human Services provides health care benefits to more than one million South Carolinians. Our agency's strategies and goals align with our focus on better care, better value and better health for South Carolinians. Our strategic plan is based on the key principles of access, engagement, integration, quality and stewardship. This strategic plan supports our mission of purchasing the most health for our citizens in need at the least possible cost to the taxpayer and our vision of being a responsive and innovative organization that continuously improves the overall health of South Carolina.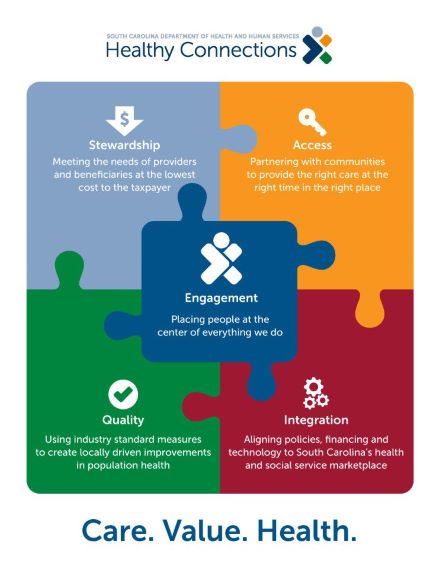 Access
Partnering with communities to provide the right care at the right time in the right place.
Engagement
Placing people at the center of everything we do.
Integration
Aligning policies, finances and technology to South Carolina's health and social service marketplace.
Quality
Using industry standard measures to create locally driven improvements in population health.
Stewardship
Meeting the needs of providers and beneficiaries at the lowest cost to the taxpayers.