Disabled Children
"Katie Beckett" TEFRA Children
Healthy Connections provides benefits to certain children with disabilities who would not ordinarily be eligible because their parents' income and/or resources exceed the limit.
In 1981, the federal government created the Katie Beckett waiver, named after the child who inspired it, which allowed children to receive institutional care at home while retaining their Medicaid coverage, regardless of parents' income. In 1982, the Tax Equity and Fiscal Responsibility Act (TEFRA) expanded the waiver. 
Eligibility:
A child who may be eligible for this program must:
Be age 18 or under
Live at home
Meet the Supplemental Security Income (SSI) definitionof disability
Have gross monthly income below $2,742 and countable resources at or below $2,000 (only the child's income and resources are counted)
Meet an institutional level of care.
The three levels of care are:
Intermediate care for the intellectually disabled (ICF-IID)
Nursing facility (skilled or intermediate care)
Hospital care
  Meeting a level of care does not mean a child must be institutionalized.
In addition, it must be appropriate to provide care to the child at home. The estimated cost of caring for the child outside the institution does not exceed the estimated cost of treating the child in the institution.
Income Limit:
(300% of the Federal Benefit Rate-FBR)
January 1, 2023
| | |
| --- | --- |
| Family Size | Monthly Income Limit |
| Individual | $2,742 |
|   |   |
Benefits:
A child who meets these requirements is eligible for the full range of Medicaid covered services. If the child needs special services, which are available only under the home and community based waiver, they must apply for and be accepted into one of the waiver programs to receive these special services.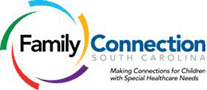 Family Connection of South Carolina
If you have a child with a disability or special health care need, Family Connection of South Carolina can provide you with information, support and hope for the future.